Traditional upward and downward flip doors

 

have corresponding inertial forces and cannot be supported at any angle to stop,

 

requiring manual support by hand, which seriously affects the experience and is time-consuming and labor-intensive.
With this Cabinet Door Arbitrary Stop Support Bar, you

 

no longer need manual support. The door can

 

be stopped at any angle, regardless of whether
it is an upward or downward flap.
Mechanically closed,

 

precision-cast zinc alloy, electroplated finish, compact dimensions, left and right resting,multi-angle stop at will.
Practical Cabinet Door Helper--Get yourself a practical cabinet door helper, you can install it in your cupboard, closet even dresser.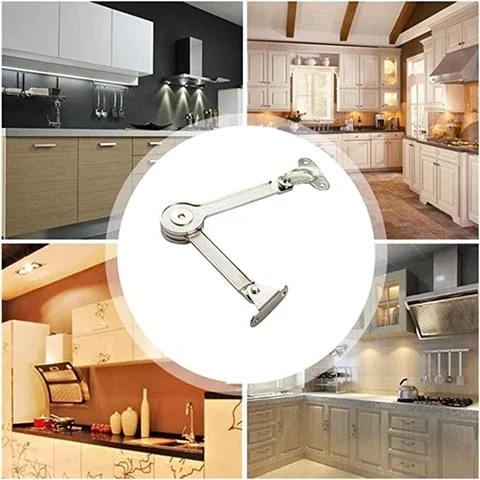 MAIN FEATURES
☭ Mechanical Closure
The support force can be easily adjusted for

 

multi-angle dwell

 

and

 

slow closing

 

effects.
☭ Multi-angle Stopping
The height can be adjusted at will,

 

opening up to 105°.

 

The user-friendly design makes it easy to pick up and place objects. Can

 

be hovered at any angle.
☭ Durable Material
Made of thick zinc alloy, the precision cast rod is strong and durable,

 

anti-corrosion

 

and

 

moisture-proof, beautiful, and generous.
☭ Electroplating Treatments
The surface is plated in multiple layers and polished several times to make the surface smooth and beautiful,

 

not easy to accumulate dust, and

 

good wear resistance.
☭ Easy To Use
Easy to install and does not distinguish between left and right.

 

Comes with its own spanner

 

for adjusting the size of the desired load-bearing capacity.
☭ Opening Angle
The opening angle of the up-and-over door can be adjusted in the

 

75°, 90°, and 110° positions

 

by changing the installation dimensions.
USING METHODS
Specifications:
Material:zinc alloy
Size:As picture show
Color: silvery
Package Contents:
1 set* Cabinet Door Arbitrary Stop Support Bar

NOTICE:
1. Due to the light difference, the color may be slightly different.
2. Please allow slight differences due to manual measurement.