Are your kids bored at home? Do you want to entertain them in a fun and exciting way?
She cansing, unfold skirt pages, she will keep your kids engaged as they watch the princess twirl andthrow colorful lights, as well as sing its own song. Made from high-quality toymaker materials and it's safe for children.
Your little princess will have fun playing with this 360 rotating dancing princess. The princess doll is holding a wand to lead lights and music, and she can dance at any time, anywhere you like.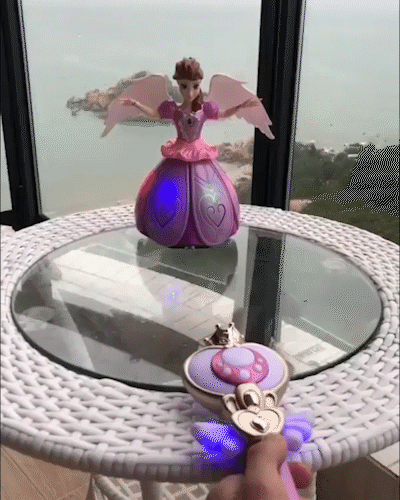 With a motion sensor, the dancing princess doll will automatically unfold skirt pages and will throw colorful magical lights when beingtouched. The doll is very beautiful.
It's so engaging for the kids and inspired by the famous Frozen princess. 
Beautiful ballerina dances :Watch in amazement as this beautiful ballerina dances on her own. The 360 Rotating Dancing Princess music box puts on a captivating show that every little princess will love. Simply spin her upper half with your hand for enchanting twinkle lights and magical music.
Best gift for Christmas and New Year - As a gift for your children's birthday, Christmas, New Year, etc., this doll will bring them surprise and happiness. It will be also the best decoration for a child's room or a children's playroom. The character of the music box is a beautiful girl with a skirt. When she rotates, she will fold her skirt pages automatically and will throw colorful magical lights to play with her. What's more, the music of the music box is also beautiful. It would be a good decoration as well as a song-playing toy as well as a gift for your friends or kids or an ornament in your house.
Specifications:
Size: about 9 x 6 x 6 inches (23 x 15 x 15 cm).
Power supply: 3 x 1.5V AA batteries(not included).
Color:Pink,Blue